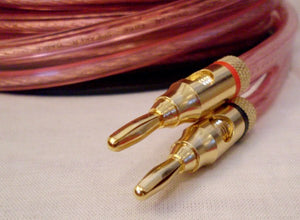 Banana Cables and Plugs
Sale price1 Price2 Regular price4 5
$16 for 4 Pairs
$30 for 8 Pairs
As some of you Glowbies know, GLOW has for several years offered reasonably priced speaker cable and banana plug packages that make it easy to connect your equipment without breaking the bank. We sold our cables in thirty foot lengths, matched them with high grade audiophile quality banana plugs, and offered them to our customers at amazing prices.
Unfortunately, we exhausted our supply of the fabulous Acoustic Research 12 gauge oxygen free pure copper speaker cable. We continue to look for a source of similar quality cable at a reasonable price, but the price of copper has jumped so high that we may never again see well constructed 12 gauge, 100% pure copper cables at such incredible prices.
In the meantime, we will offer our very nice, easy to install banana plugs for those who prefer to cut their own cables and eschew the more expensive speaker cables that come in pre-determined lengths (and sometimes with incredibly high price tags).
As a quick look in any audio magazine will show, speaker cables can be VERY expensive. One company sells a pair of "entry level" 10 foot speaker cables for $700. Their premium speaker cables sell in the thousands. This pricing is not uncommon.
Do speaker cables really make a difference? They certainly do. As one expert described it, they essentially act as a filter, and each strand design and each type of coating or sheathing can affect the sound quality in subtle but perceptible ways. But there are many engineers and audiophiles who claim that the high price of exotic cables is not justified or warranted. Ultimately, we\'ll let you decide whether expensive cables are worth the money; suffice it to say that there are a number of studies and articles available on line that take one side or the other of the argument.
That said, if you are unwilling or unable to pay $700 or more for a pair of "entry level" speaker cables, you will find that you can still get excellent sound from your GLOW equipment using standard copper wire of at least 14 gauge (and preferably 12 gauge or larger). Get cable that is 100% copper; we definitely recommend staying away from speaker cables that use CCA (copper clad aluminum) wire. It simply does not conduct as well as copper, and we do not recommend it for audiophile use.
If you cut your own cables, there is nothing more convenient than to have them terminate in banana plugs, to make connecting and unconnecting your equipment a cinch. Just using bare wire risks loose connections, which can affect the signal transfer and even damage your equipment. And, hooking and unhooking bare wire can be a chore, even when using equipment with four-way binding posts. That\'s why we are offering these most excellent banana type cable plugs. Once fixed to your cable, they provide a secure, easy connection for your GLOW equipment:
Our popular Banana Plugs are being offered in packs containing 4 pair or 8 pair. For those of you using a subwoofer, the 8 pair package is what you need!