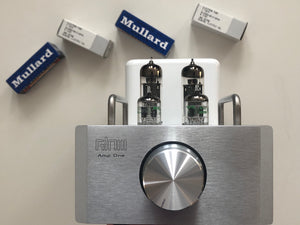 GLOW Amp One Single Ended Tube Amplifier - SPECIAL EDITION
Sale price1 Price2 Regular price4 5
$780
Take the world's best sounding single ended stereo tube amplifier, fit it with Mullard EL84 power tubes and GE 5670 driver tubes, and what do you get?
A level of awesomeness completely unobtainable from any other manufacturer at even twice the price.  
About the Special Edition Amp One: 
The GLOW AUDIO Amp One is a hifi classic, renowned for its smooth, detailed, and accurate sound and a fatigue free presentation. We are upping our game with the introduction of the GLOW AUDIO Amp One Special Edition. 
We have rolled about every tube combo imaginable before deciding on the Mullard EL84 and General Electric JAN 5670 as our upgrade choice for the Amp One Special Edition model.   

The Mullard power tubes add a body and depth, a creaminess and texture, that is hard to describe but easy to hear. 
The GE 5670 driver tubes provide the foundation ..... a clean, balanced, tonally accurate and somewhat dry first gain stage for the Mullard's to work their magic with.   
Of all the possible tube combinations available, we came to like this particular match up the best. We are confident you will like what you hear, too.  
NOTE: All GLOW AUDIO Amp One Special Edition models receive five hours of burn in and testing prior to shipping, so that you can be confident that your amplifier sounds its best .... right out of the box.  
The Amp One Special Edition has the smoothest, silkiest and most detailed sound of any single ended tube amplifier at the under $2,000 price point. The fact is, this amplifier outperforms many of its competitors that cost 5X or more than our acclaimed giant killer. No corners were cut- the build quality of this amplifier is superb, the amp is designed to last a lifetime. If you have never heard a high quality tube amplifier, prepare to be startled by the subtle musical details the amp reveals. By design, single ended tube amps are low power, with high resolution.
Our promise to you: Our GLOW Amp One Special Edition will sound and perform as well as or better than equipment costing twice as much. If you don't agree, simply return within 30 days for a full refund of your purchase price.
The GLOW Amp One Special Edition Features:
Removable tube cage included with all amplifiers
2 RCA source inputs (switchable)
Single ended (SE) Class A pentode design
Mullard EL84 power tubes
GE 5670 driver tubes
Ceramic Tube Sockets
All point-to-point wiring
High quality transformers
Minimum use of negative feedback
Tubes are self-biasing and never need adjusting
1/4" Headphone jack
ALPS volume potentiometer
High quality binding posts
High Gloss Enamel paint with anti-corrosion undercoating
Steel chassis
Full one year warranty against defects
115-240 V switchable, fuse protected
CE certified in compliance with European Economic Area (EEA) requirements
The GLOW Amp One Special Edition can be purchased in the following colors:
 Red, White (out of stock),Yellow, Silver (out of stock),Black and Black-on-black.
OUTPUT IMPEDANCE
Speakers: 4Ω~8Ω
Earphone: 32Ω~600Ω
OUTPUT POWER: 5W x 2 at 1KHz
Earphone: 600mW
FREQUENCY RESPONSE: 10Hz-30KHz (-1dB)
T.H.D: <1% (1W)
S/N: >89dB
INPUT IMPEDANCE: 50K

Ω

INPUT SENSITIVITY: 650mW
VACUUM TUBES: GE 5670 x 2, Mullard EL84 x 2
POWER CONSUMPTION: 52W
POWER REQUIREMENT
Switchable: 110V/220/240V AC, 50~60Hz
DIMENSIONS (L x W x H): 11.5" X 5.5" X 6" (238 mm x 138 mm x 148 mm)
LINE IN TERMINAL: RCA stereo Connectors x 2
SPEAKER TERMINAL: Binding posts x 2
ACCESSORIES: Power cord x 1
HEADPHONE JACK: Stereo (6.35 mm diameter)
WEIGHT: Net Weight: 14.33 lbs. (6.5KG)
Shipping Weight: 16.5 lbs. (7.5KG)
Specifications are subject to improvement without notice or obligation.