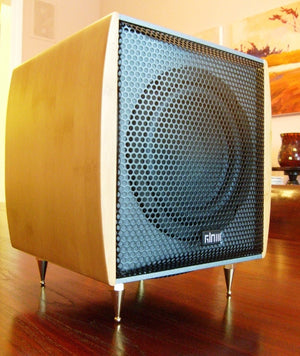 GLOW Sub One Powered Subwoofer with Passive Radiator
Sale price1 Price2 Regular price4 5
We have sold out of our final production run of the GLOW Audio Sub One.
 At 10 inches square, many audiophiles consider this the best small powered sub available from any source. We will update you on progress in the development of our new and improved Sub One (Series II).
While the design of award winning, no nonsense tube amplifiers remains our primary focus, we continue research and development of new speakers and subs that match well with our renowned tube amplifiers.
Our loudspeakers sound great as is, but if you want to experience the feeling that only a deep bass response can provide, you might consider using our small speakers with our perfectly matched GLOW Sub One powered subwoofer.
Click HERE for more photos of the GLOW Sub One.
"..serious weaponry..."
The GLOW Sub One is a 2009 recipient of a 6 Moons.com REALSIZATION AWARD, for providing outstanding performance and extreme value. See excerpts from the review below:
"Glow Audio's Sub One is beautifully built and superbly attractive in its anthracite/bamboo skins and classy brass footers. It performs exactly like a musical subwoofer should even in a big room - quick, properly damped, powerful, without bloat, ring or sloppiness and good into the low 30s."
"Make no mistake, the Glow subwoofer is the real deal ... the doubled-up drivers of the Sub One have more kick and energize more profoundly ... you can play the most beastly bass whoppers in your collection and not feel shortchanged. That it manages to do all that for $408 delivered globally is shocking. It truly is. Bravo. "
Srajan Ebaen, Editor 6 Moons.com
"Agile, tuneful and substantive."
POSITIVE FEEDBACK - ISSUE 44
July 2009
Some of you may not require deep bass response (for example in a small room or office) and would consider our smooth sounding small speakers all you need. But if you do want to feel the bass,then we recommend use of the GLOW Sub One, now available for worldwide delivery. Approximately 9" square,our sub is definitely an over-achiever.
Utilizes a 6.5" woofer and a downward firing passive radiator to provide deep and accurate bass response without the "thud" characteristic of small ported subwoofer enclosures.
The GLOW Sub One is an attractive and stylish component, with gently curved natural bamboo siding and an attractive metal grill. You may not want to hide it behind your sofa after all!
Sub One SPECIFICATIONS
AMPLIFIER TYPE: S-650
FUSE TYPE: 1.6A/250V
OUTPUT POWER: 60W
FREQUENCY RESPONSE: 30Hz-160Hz
T.H.D. 0.4% S/N 97dB
SPEAKER DRIVER TYPE: 6.5'
MAGNET WEIGHT: 0.53KG 1.17lb
SENSITIVITY: 95dB (1W/1M)
CROSSOVER TYPE: NA
POWER CONSUMPTION 140W Maximum; 7.9W in auto rest (inactive) mode
POWER REQUIREMENT: 110V/220/230V AC, 50~60Hz AC voltage is factory set for 110/120V but is switchable for 220V operation, see manual
DIMENSIONS: (L x W x H) L 230mm x W230mm x H280mm L9.06' x W9.06' x H11.02'
LINE IN TERMINAL: RCA stereo Connectors x 1
SPEAKER TERMINAL: Binding posts x 2
ACCESSORIES: Power cord x 1
WEIGHT: Net Weight: 6.8KG14.99 lb Shipping Weight: 7.6KG 16.76 lb
Specifications are subject to improvement without notice or obligation. The
GLOW Sub One is CE certified and meets all the essential requirements of the relevant European Directive(s) for sale throughout the European Economic Area (EEA).