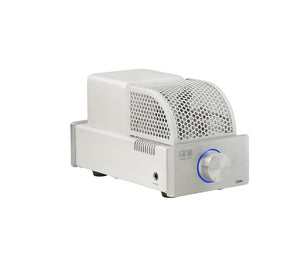 GLOW Amp One Single Ended Tube Amplifier - Standard Version
Sale price1 Price2 Regular price4 5
$580
Single Ended Bliss
"Simply silly brilliant." -Srajan Ebaen, 6Moons.com
Proud Recipient of the 6 Moons "Realsization" Award
"What do I like about the GLOW Amp One? Pretty much everything. Quite simply I have never heard my recordings sound more real... on old familiar vinyl I experienced a kind of presence that was downright spooky. The GLOW Amp One is a Hi Fi epiphany."
-Dr. Jeff Rabin, EnjoytheMusic.com
"Smart, small and eye-catching design with a sweet, open sound and plenty of detail...
...a fine effort from GLOW Audio"  
"The Amp One from GLOW Audio is an amazing feat. I've never seen point to point wiring at this price.
The amp is a solidly constructed piece of equipment weighing in at around 20 lbs. And oh yes, the sound is gorgeous.
The single-ended design eliminates the crossover distortion that hampers many tube amplifiers at this price range.
The amp put out a pleasing and rich sound on Paradigm Mini Monitors and Polk Lsi9 bookshelf speakers.
With Sennheiser HD600 and AKG 702 headphones ... the Amp One is also the best tube headphone amplifier I've heard."
-Derek Brooks, The Audiophile Journal
To view a photo album of the GLOW Amp One, click HERE
We build handcrafted stereo amplifiers with the purity of sound that only a thoughtfully designed and well assembled tube amplifier can provide.Get the sound quality you've been missing, with the simplicity and style you want. The GLOW Amp One is meticulously designed to please the eye and the ear, at a price you can afford.
The GLOW Amp One is a classic stereo tube amplifier design, with a twist - every GLOW amplifier has the option of being connected to your computer via the GLOW Audio DAC 1.3, a plug and play device designed to give you audiophile grade sound quality from any computer. This allows you to use your computer as a hifi music source, by streaming audio from the internet or playing music stored in your hard drive. (Note: For a limited time, the GLOW Audio DAC 1.3 is being provided at no additional charge with the purchase of the GLOW Amp One.)
The Amp One has the smooth, silky and detailed sound for which good single ended tube amps are famous. If you have never heard a high quality tube amplifier, prepare to be startled by the subtle musical details the amp reveals. By design, single ended tube amps are low power, with high resolution.
Matched with efficient loudspeakers, the GLOW Amp One can produce the most natural sound imaginable.
Versatility. Just hook up your computer using the GLOW Audio DAC 1.3. Or, plug in your CD player, iPod, DVD player, or your Hi Def television via the two RCA inputs. You can also stream your music to the GLOW Amp One from your smart phone or tablet via blue tooth, or plug in an Amazon Dot or Sonos system  ..... regardless of the input source, be prepared to be amazed with the breathtaking realism provided by this high quality single ended tube amplifier.
Or, use the GLOW Amp One as a headphone amplifier (standard audiophile 1/4" headphone jack included),and experience an incredible level of realism and detail. The headphone signal is stepped down directly from the amp's output transformers, giving you a silky smooth and non-fatiguing sound via headphones.
You will enjoy your music as never before. Or your money back.
 Our promise to you: Our GLOW Amp One will sound and perform as well as or better than equipment costing twice as much. If you don't agree, simply return within 30 days for a full refund of your purchase price.
The Amp One in White
NOTE: The ring around the volume knob subtly and slowly changes colors while the amp is in operation.
Close up of Amp One Tube Cage.
The GLOW Amp One Features:
Removable tube cage included with all amplifiers
2 RCA source inputs (switchable)
Single ended (SE) Class A pentode design
EL84 power tubes*
Ceramic Tube Sockets
All point-to-point wiring
High quality transformers
Minimum use of negative feedback
Tubes are self-biasing and never need adjusting
1/4" Headphone jack
ALPS volume potentiometer
High quality binding posts
High Gloss Enamel paint with anti-corrosion undercoating
Steel chassis
Full one year warranty against defects
115-220 V switchable, fuse protected
CE certified in compliance with European Economic Area (EEA) requirements
The GLOW Amp One can be purchased in the following colors:
Red, Silver, White, Yellow, Black and Black-on-black.
The GLOW Amp One SPECIFICATIONS
OUTPUT IMPEDANCE
Speakers: 4Ω~8Ω
Earphone: 32Ω~600Ω
OUTPUT POWER: 5W x 2 at 1KHz
Earphone: 600mW
FREQUENCY RESPONSE: 10Hz-30KHz (-1dB)
T.H.D: <1% (1W)
S/N: >89dB
INPUT IMPEDANCE: 50K

Ω

INPUT SENSITIVITY: 650mV
USB SOUND DECODER (with optional GLOW Audio DAC ONE): 16Bit 2704decoder, USB connection
VACUUM TUBES: 6N3 x 2, EL84 x 2
POWER CONSUMPTION: 52W
POWER REQUIREMENT
Switchable: 110V/220/230V AC, 50~60Hz
DIMENSIONS (L x W x H): 11.5" X 5.5" X 6" (238 mm x 138 mm x 148 mm)
LINE IN TERMINAL: RCA stereo Connectors x 2
SPEAKER TERMINAL: Binding posts x 2
ACCESSORIES: Power cord x 1
HEADPHONE JACK: Stereo (6.35 mm diameter)
WEIGHT: Net Weight: 14.33 lbs. (6.5KG)
Shipping Weight: 16.5 lbs. (7.5KG)
Specifications are subject to improvement without notice or obligation.
Each tube amp comes with a removable matched steel tube cage.
The GLOW Amp One is CE certified and meets all the essential requirements of the relevant European Directive(s) for sale throughout the European Economic Area (EEA).
If you have any questions regarding compatibility of your amplifier with any particular make of tube, email us.