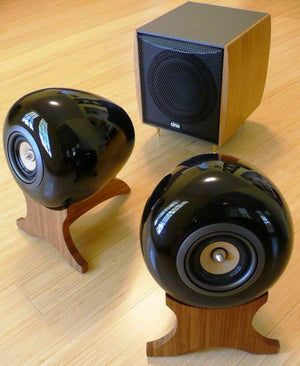 Voice One Speaker Stands
Sale price1 Price2 Regular price4 5
Hand crafted by designer Joel Scilley of AUDIOWOOD fame, these beautiful speaker stands are specifically designed for use with our acclaimed GLOW Voice One loudspeakers.
The GLOW speaker stands are constructed of sustainably-produced solid bamboo, nicely complementing the environmentally friendly Voice One speakers, which utilize enclosures made of recycled wood scraps. The stands feature tenoned construction and a durable finish.., ..The combination of the GLOW Voice One and AUDIOWOOD designed stands makes a compelling, visually stunning presentation.
The Floorstands are available in a Natural Bamboo finish, while the Desktop Stands are available in your choice of natural bamboo and honey bamboo finishes. Information on how to order is provided below; see more photos of these gorgeous creations HERE.
-:- -:- -:-
OPTION 1: The Desktop 
$80 plus Shipping and Handling per pair
In Natural Bamboo and Honey Bamboo finishes.
Email us to determine availability of the finish you have selected. 
OPTION 2: The Floorstand*
$218 plus Shipping and Handling pr pair
In Natural Bamboo Finish only - Introductory Price
*OUT OF STOCK. New floorstands may be resurrected when the Voice One loudspeaker is restocked.